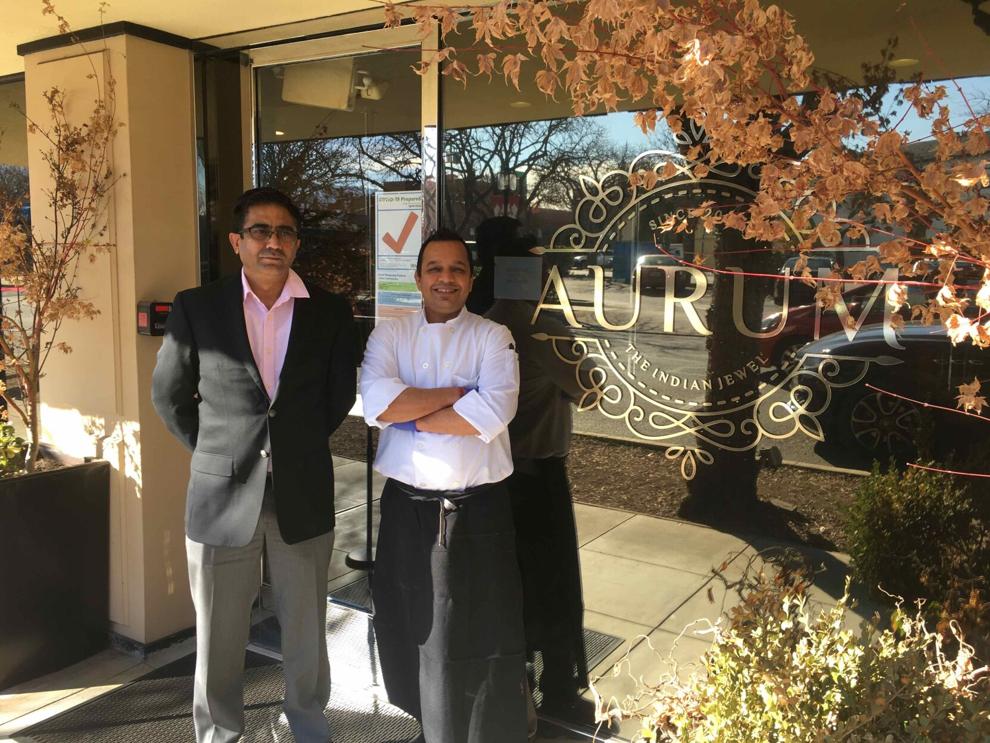 The chemical symbol for gold is "Au." In terms of value, gold is one of the highest-weighted metals in the world, showcasing prosperity and a high standard.
As Anupam Bhatia thought about the menu ahead of opening his new Indian restaurant in downtown Los Altos last month and how he wanted to present it to the community, one word stuck in his head: "Aurum," the Latin word for "gold."
"We are not high-end in terms of the pricing," said Bhatia, CEO of Aurum. "But we are high-end in terms of the presentation and the quality of the food. I know it's difficult times for people, so we never wanted to go toward exorbitant pricing."
Aurum, which has taken the place of Ambience on State Street, sells its main courses for between $16 and $28 – priced competitively, according to Bhatia.
The place has arrived in Los Altos to some fanfare. It is the only Indian restaurant downtown and features a familiar local chef in Manish Tyagi, who previously was head chef at Amber Dhara and August 1 Five in San Francisco.
But after August 1 Five, a high-end, modern Indian restaurant next to San Francisco City Hall, closed last year, Tyagi and Bhatia – who have known each other for seven years – began looking south for a new location.
Bhatia, who opened a Michelin-recommended Indian restaurant in Redwood City in 2013, was looking at spots in downtown Los Altos as early as 2016.
"This was always on my mind," Bhatia said. "Since we do cater to a lot of high-profile, techy people, I always wanted to go a level south from Redwood City. Los Altos was the best location."
Tyagi, who is also the restaurant's COO, said the difference between the customer base in Los Altos and San Francisco is noticeable.
"What I like most about this place is people are very friendly," Tyagi said. "They like to spend time and they kind of express themselves, which I was missing during COVID in San Francisco. I believe people are much more relaxed here. They really appreciate the high level of cooking, and they're very inviting in their nature. This kind of situation is a blessing in disguise, I would say."
Innovative menu
Tyagi, like many other restaurant executives, is "waiting for the (COVID-19) restrictions to be resolved soon so that we can meet (patrons) in a more formal way and I can showcase my food the way I really want to."
So far, Aurum has only been able to serve takeout and delivery.
The menu features a Californian touch on both traditional and contemporary Indian dishes. Tyagi adds local produce not usually included in Indian cuisine, such as parsnips, broccolini and zucchini.
"I don't want to discontinue the vibe here," he said. "I just don't want to miss that I'm in California. I'm in a place which is blessed with so many goodies, so much fresh produce. As a restaurant, I'm going to use a lot more stuff."
Tyagi believes that Bay Area residents are continuously willing to try new things, giving him license to experiment with recipes and play around with traditional foods. And he thinks that people's familiarity with his cooking appreciate that he is now in their neighborhood.
"This whole area really needs an Indian restaurant," Tyagi said. "And a lot of our guests who come to pick up food, they express their feelings, like, 'We're blessed you guys are here. We love that this happened.'"
Aurum is located at 132 State St. For more information, visit aurumca.com.