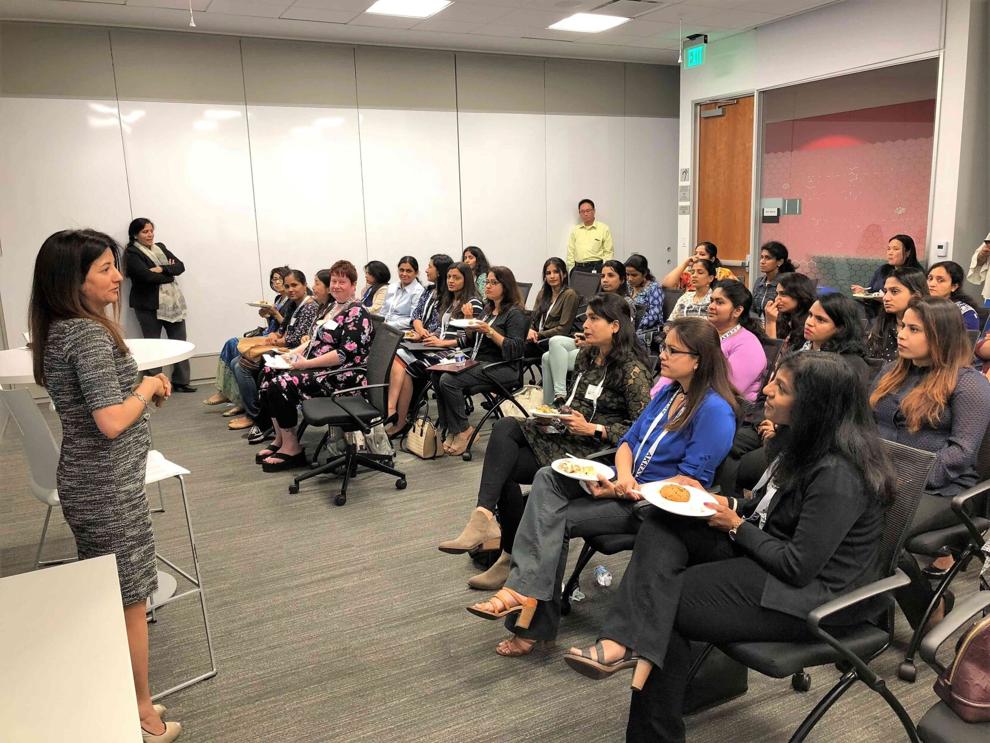 For Sonu Ratra, founder of the Women Back to Work initiative, re-entering the workforce after taking a break to mother her daughter was not easy.
"About 20 years ago, I took some time off of work to take care of my daughter," the Los Altos resident said. "And then, about 18 months later when I tried to return to the workforce, all doors were shut firmly. That 18-month gap was a chasm that I couldn't cross with my degree, because when companies saw that gap, they thought that I wasn't current in my experience, even when I was qualified for every job I applied for."
Eventually, Ratra co-founded Akraya, a consulting and staffing company operating across the United States and India. She also started to notice a trend – many women returning to the workforce weren't able to find jobs.
"We got a lot of referrals from our customers, our friends and colleagues, who said, 'Here's someone who has a gap – could you guide us?'" she said. "So we would have them come to the office and help them find jobs."
At the same time, Ratra noticed the increased emphasis on workplace diversity, with companies looking for employees with different backgrounds and experiences. The trends led her to start Women Back to Work, a free program that helps women re-enter the workplace.
"The purpose of the program is to create systemic pathways to facilitate the re-entry of women into the workforce while enabling companies to hire for exceptional talent and also exceed that diversity goal," Ratra said.
The path to re-entry
For those interested in the program, the first step is a virtual "Power Hour," held noon to 1 p.m. Tuesdays. It's a time when women can bring their resumes to Women Back to Work and ask questions about their job search.
According to program director Deepika Chhibber, the hour also enables the program to get a better feel for the applicants.
"When they come, we screen them – learning about the role they want and what they want to do," Chhibber said. "And then we match them to whatever open roles that come to us through a
'returnship.'"
Returnships, according to Chhibber, are 12- to 16-week cohort-style internships for mid-career professionals providing mentorship, coaching and job experience. Women Back to Work's most recent cohort in October began working with Tesla through a 26-week paid program.
Women who don't end up matching with any returnships are still able to learn from the program.
"Many of the women we help are just mentoring, coaching, providing guidance, helping them with their resume, helping them with their social media profile, and more," Chhibber said.
She estimated that through the services offered in the "Power Hour," Women Back to Work has helped approximately 1,500 women since its inception six years ago.
Many of them come from low-income communities that Women Back to Work reaches out to, said marketing manager Shradha Shashidhar.
"We mostly market through mom groups on social media, as well as referrals," Shashidhar said. "But we also started doing elevator-pitch workshops in libraries before the pandemic, trying to help those who couldn't make it to the office."
Chhibber emphasized that even during COVID-19, Women Back to Work wants to make sure women still feel that they can rejoin the workforce.
"We helped show them that just because we're in the midst of a pandemic doesn't mean you should quit your dreams, or quit your aspirations on going back to work," she said. "The 'Power Hours' continue to prove that again and again these women show up every week, virtually, and they haven't given up."
If anything, Shashidhar believes the pandemic makes getting help even more accessible.
"In fact, the pandemic sort of helped women, because now they don't have to leave the comfort of their home to come to the office and get their resumes fixed," she said. "It's easy – you know, we're just an email or text away."
Ultimately, Ratra's vision is for programs like Women Back to Work to help remove the stigma surrounding caregiving leave.
"I think what we are working toward is a world where women who have taken a break for caregiving purposes aren't penalized or told they are not current enough or they've lost their skills," she said. "That was a personal decision that a woman takes to step back from her career, and it in no way, shape or form takes away from her skills."
For more information on the program, visit womenbacktowork.org.