As local families found new ways to celebrate together over the past 18 months, parties were delayed, canceled or reimagined. Some weddings carried on, dramatically reduced in scope. Gatherings moved to tiles on a screen rather than guests at the front door. Here's how two local families found a way to stay connected by honoring and modifying traditional moments.
The brides in the pictures
When Los Altos resident Libby Ackley sent an announcement to the Town Crier that her daughter, Mia, married Chadd Krist June 5, she noted that she still had a copy of her own parents' announcement, which had run in the paper's pages as well. The weathered clipping captures a wedding that was modest in scope compared to many lavishly modern parties, but captures grace notes with loving detail.
When Mia's grandmother, Sue, was married in Los Altos, she decked the altar at St. Simon Catholic Church with gladioli, snapdragons and chrysanthemums, carried lilies and orchids, and her veil draped from a crown of wax apple blossoms. The Town Crier's 1959 wedding announcement detailed not just the bride's attire in detail, but that of the maid of honor – and then chronicled two subsequent outfit changes for the newly minted Mrs. Perez.
Today's bridal announcements carry few of those details, even in an era when Pinterest and Instagram fuel female wedding traditions with the scope for many lavishly reported details. Conventions have changed – a glossy color photograph captures the moment, and the details live on personal social accounts rather than in the shared local paper. But to depart from the norm for a change, here is what Mrs. Perez's granddaughter wore 62 years later, in her own words:
I'd eyed this dress by Danielle Frankel Studios – she is kind of a newer designer, but I'd seen her work. Since it was COVID, none of the bridal studios were open. I sat at my computer and looked around and I just kind of pulled the trigger – I'll just try it on at home and see how it works. And it came and I just fell in love with it. It's a high-neck, bias-cut silk sheath gown with a low, draped back, exaggerated long sleeves and an extending train.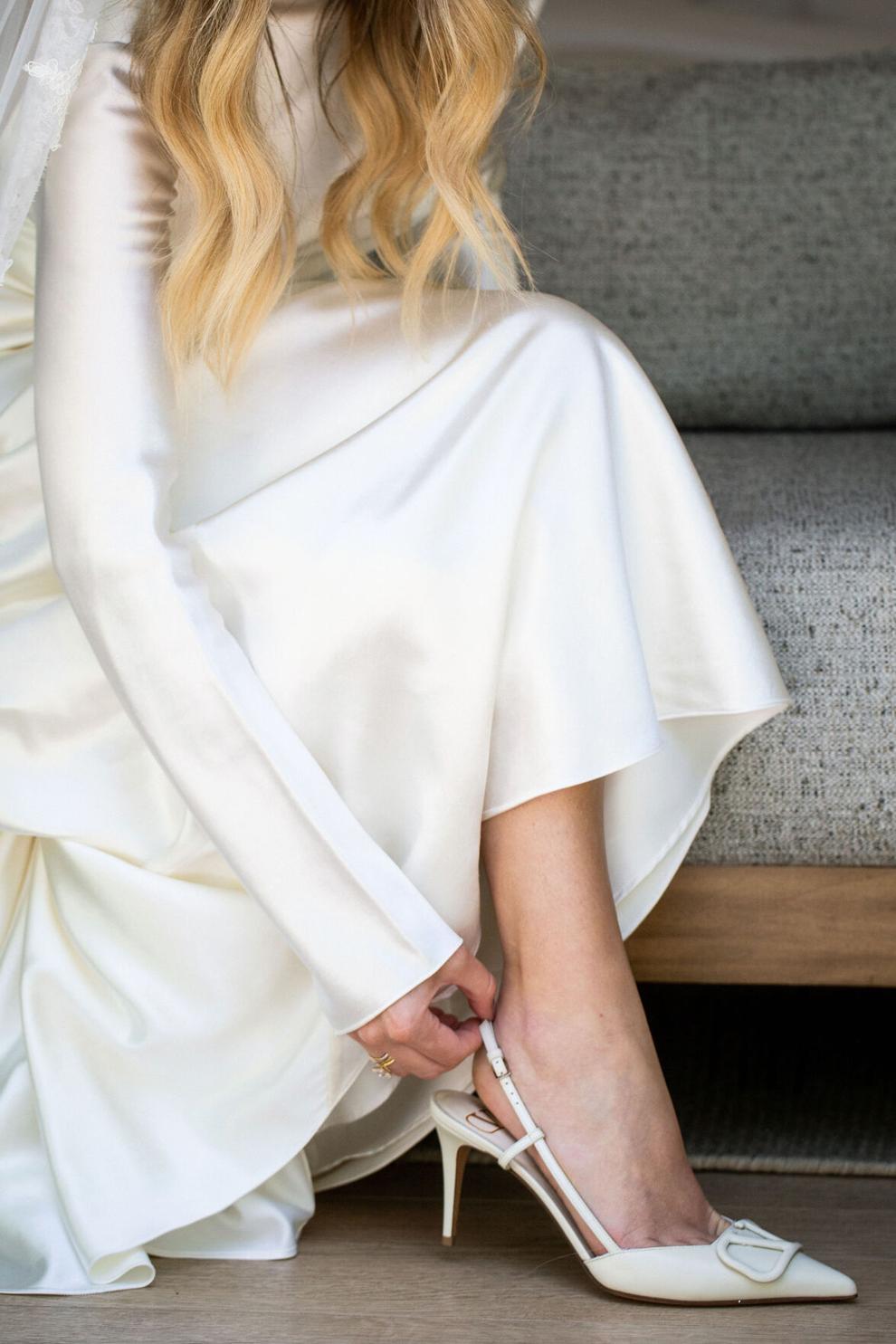 My shoes were Valentino. They're just so classic – when I think of grace and elegance, I think of Valentino. They were a pointy, slingback pump with the classic logo in the front. My veil is Daphne Newman, a Canadian brand. I've been a Catholic school kid my whole life; I was getting married in the church, and I wanted to feel like I was dressing the part, with the long cathedral veil with lace.
Her grandmother's three-quarter sleeve, boat-neck, ballet-length dress captured the "grace and elegance and femininity" she exuded, Mia said.
"When I see that photo, I see pure love. Everything was so simple back then, and that really inspired me for our wedding, because it was a pandemic," Mia added.
Mia's imagined "Great Gatsby" wedding had reshaped dramatically as she got engaged during the pandemic and knew "we're too in love to wait for a big party."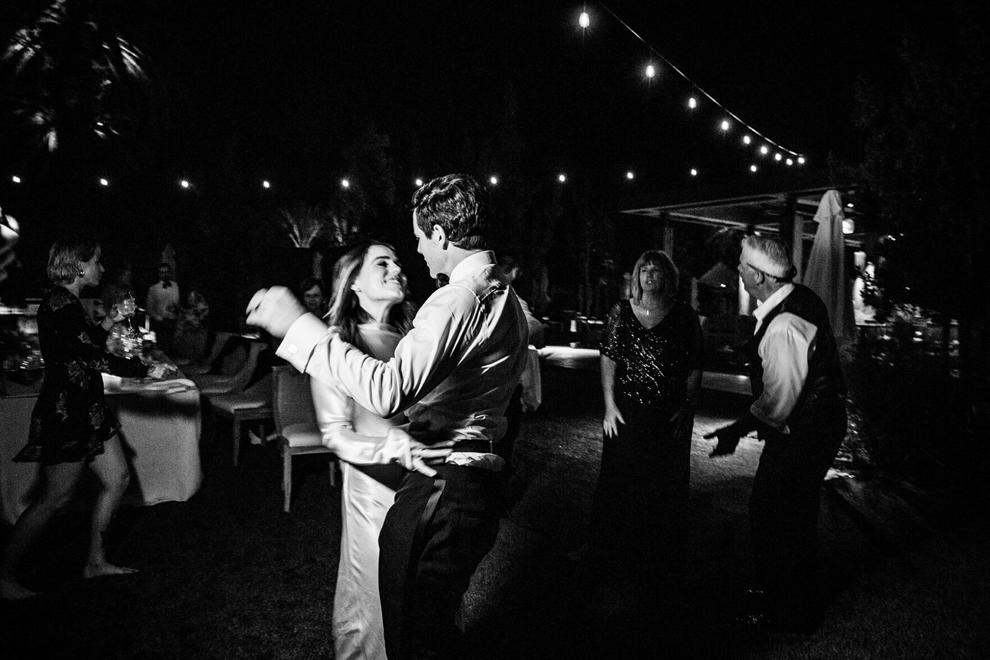 "We didn't want to elope – our families are so important to us," she said.
So, Mia and Chadd planned an outdoor reception in Napa for 13 people that was intimate but held back on nothing: cake, videographer, even impromptu dancing on the lawn. The guitarist for their cocktail hour pulled out a playlist and the family of extroverts rolled from a first-dance song into a night of leaving it all on the dance floor as a tiny group.
"Without all the hoopla and craziness of how weddings have gotten these days, it was so nice to take away all of that and go back to the bare bones of what getting married means and how it was a milestone we wanted to cross together instead of a big party," Mia said. "Chadd and I could focus on each other the whole night rather than meeting people and thanking them for coming."
Spending time together, however we can
Los Altos residents John and Joan Woodward celebrated their 75th anniversary this year, with more than 60 years of that tenure spent on Creston Drive in Los Altos. As their five children, 11 grandchildren, 22 great-grandchildren and five great-great grandchildren entered the world, the pair faithfully deepened their involvement at Palo Alto's Peninsula Bible Church and grew in their partnership to each other as well, according to youngest son Mike Woodward.
"They still don't just love each other, but like each other and enjoy spending time with each other," Mike said of his parents, reflecting that "learning to prefer one another over themselves" has been a lifelong practice intertwined with the big role faith has played in their lives.
Mike said it's "funny to hear my mom say in these later years, 'The two of us are just so different, so opposite.'"
He added of the insights they've built over time: "You don't realize that necessarily when you're dating – you're looking at all the good things, the things that are attracting you."
At ages 99 (John) and 95 (Joan), the pair live at home with support from family and assistants. During the pandemic, the family has learned to navigate Zoom intergenerationally. A granddaughter spearheaded the family Christmas party, and though tracking the constantly shifting tiny squares of participants as people joined and dropped was challenging, the moments of one-to-one connection were meaningful.
"Everyone loves them so much and wants to be spending time with them however they can," Mike said of the "make-it-work" mentality that has gone into these connections.
For their parents' anniversary, Mike's sister, who lives in Los Altos with John and Joan, read aloud Facebook messages from well-wishers near and far who want to celebrate the Woodwards for their anniversary despite the COVID-era distance.
In some ways, the digital context has demonstrated the breadth of John and Joan's impact as people came out of the woodwork to honor them – "They always act like, 'Well, why would they want to take the time to greet us?' – they don't get it, how loved they are, so it's kind of fun to watch," Mike said.
Has your family found a way to conquer generational differences, technology and the pandemic to connect around a special life event? Email elizar@latc.com with your story.