Whether it's multicolored birthday cupcakes, gender-reveal cakes, tiered wedding cakes or elegant anniversary cakes, cake has become synonymous with celebration.
The global pandemic put a halt to celebrations as we previously knew them, and with it, much of our cake consumption. But as COVID restrictions ebb and flow, bakeries have seen a rise in cake sales.
"During the pandemic, it was really slow because there were not a lot of celebrations," said AnaLisse Johansson, general manager of Sweet Diplomacy, a gluten-free bakery in downtown Los Altos. "People would have birthdays, but it would be just their own families. But recently we've had a lot of bigger cakes. A lot of requests for wedding cakes are now coming back. We even had a 100th birthday a couple weeks back."
Santosh Chankyam soft-opened Mr. Cake+, an Indian bakery in Mountain View, in December 2020, during the height of the pandemic. He said there was a noticeable increase in cake sales after June this year.
"In order to just have that feeling of happiness and community, I think cake makes a big difference," Chankyam said. "So that's why we need to have a cake on every occasion."
Rather than sharing one big cake, many customers are opting to purchase individual treats, such as cookies, pastries and cupcakes.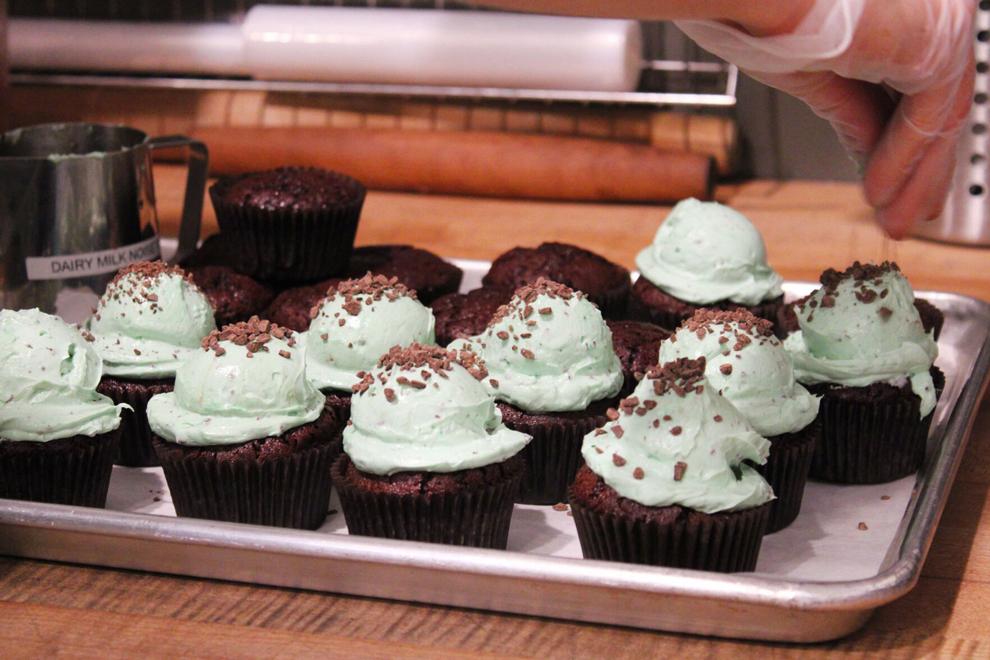 "People would do Zoom birthdays – they would have 20 individually packaged cupcakes, and they would drop them off at people's houses," Johansson said. "Even (if the celebration was) at their house, they would do individual packaging, just so they knew it was more safe, more sanitary."
Cake trends
Johansson has two cake tips for those who are doing their own baking for a celebration or new to hosting all-outdoors events.
No. 1: When baking at home, measure ingredients by weight for better accuracy. No. 2: Place your cake in the freezer before serving it in warm weather to prevent melted frosting. She said she forgot to freeze the cupcakes she brought to her grandmother's 87th outdoor birthday celebration, and she won't make that mistake again.
Just like fashion changes over the years, cake styles and flavors change as well. Johansson said a vintage cake design sporting big bows, gems and even mini chandeliers has recently become quite popular.
Chankyam predicted that cakes sporting the flavors of other desserts will increase in popularity. He said customers have responded positively to his Ras Malai Cake, a sweet treat flavored like ras malai, a cardamom- and saffron-flavored cottage cheese dessert.
Johansson has noticed that people have recently begun ordering cakes just to celebrate coming together with friends and family after being separated for more than a year.
"They'll order a cake and I'll be, like, 'What's the celebration?' And they'll be, like, 'Nothing really, we're just getting together with friends and celebrating together again,'" she said.
Those celebrating a birthday, anniversary or just life in general can visit Sweet Diplomacy at 201 First Street in Los Altos, or Mr. Cake+ at 570 N. Shoreline Blvd. Suite B in Mountain View.
Santosh's Crispy Vanilla Butter Cookies
Ready to try baking by weight for the first time? Buy an inexpensive food scale anywhere kitchenware is sold.
• 1 kilogram butter
• 760 grams sugar
• 330 grams egg
• 16 grams salt
• 10 grams vanilla extract
• 50 grams milk powder
• 3 grams baking powder
• Zest of 1 lemon
• 835 grams rice flour
• 830 grams all-purpose flour
Mix butter and sugar until fluffy. Stir in eggs, salt and vanilla extract.
Add milk powder, baking powder, lemon zest, rice flour and all-purpose flour and combine.
Bake at 350 degrees for 12-15 minutes.