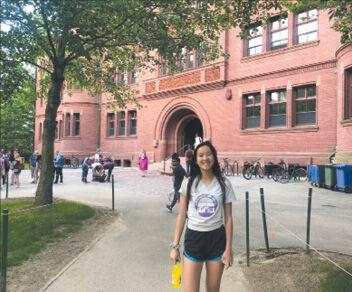 My family and I embarked last month on a 10-day voyage to the East Coast, a land filled with startlingly large expanses of greenery and prone to heavy bouts of rain. We experienced both – the latter in no shortage as we stepped off of the plane in Philadelphia and prepared to see 10 universities in the days to follow.
The plan was to land in Philadelphia, then drive through New Jersey, Connecticut, Rhode Island and Boston before finally ending in New Hampshire and flying back home; we scheduled brief tourist interludes in Philadelphia and Boston.
The trip was successful in giving me more than the information found online about the schools, such as which classes are available to undergraduates and the credentials of their professors. I also experienced the quintessential, unnamable essence of each institution.
Here's what stood out to me after sitting through information sessions and taking tours at all 10 schools starting the third day of the trip.
• Day three: The University of Pennsylvania exudes a limitless capacity for work and energy, embodied by my tour guide, who cheerfully but modestly informed us of her many accomplishments; Swarthmore College's arboretum and open campus felt more peaceful and inquisitive.
• Day four: Princeton University is quietly restless in the sway of its ivy vines under the wind. The libraries were charmingly reminiscent of Hogwarts, and the atmosphere is one of a precipice, where flowers were always on the verge of blooming.
• Day five: Yale University was tall, medieval and filled with lore. The bare hints of color and the gray-stone towers flanking the streets felt powerful and protective, like ancient arms embracing the wide-roofed Beinecke Library, which houses Yale's collection of rare books. Even the plaza surrounding it is white-tiled, almost creamy – like an unfurling garden of glass.
• Day six: Brown University is clean and sun-filled, like a page of a book left on a field. A welcoming man stopped his phone call to take a photo for my family; he turned out to be the chairman of the Brown physics department. Out in the suburbs of Massachusetts, Amherst College presented a clean, primary-colored school, so cute it reminded me of the Flintstones. A courtyard in its science library features a long, skinny squirrel ladder that allows marooned squirrels to scramble back up to freedom.
• Day seven: Tufts University's bright-blue cannon and "Jumbo" statue welcomed me with a grin, and when my tour guide said the people are simply nice there, I somehow believed it. Boston University is the opposite of Amherst, a collection of polished buildings ringing with open-mouthed laughter.
• Day eight: We took a break from colleges to visit the Freedom Trail in Boston.
• Day nine: Harvard University is surprisingly unassuming in its cluster of red-brick buildings and grassy lawns, and was bustling with summer-session students and tourists. Boston College's shiny metal spires and placid neighborhood brought me back to Los Altos Hills.
• Day 10: Dartmouth College reminded me of Los Altos, but rainy. Its down-to-earth, organic houses and modern libraries are, like Amherst and BU, endearing.
It was a whirlwind trip, yes, but ultimately enjoyable and surprisingly educational, because I audited classes at Penn (Spanish) and Harvard (literature).
Tour tips
While touring colleges, I suggest students do the following.
• Prepare for mental exhaustion and welcome it. Knowing that I would feel overwhelmed, I packed Ocean Vuong books and "Black Mirror" episodes for the nights.
• If you like two institutions equally, tour them on the same day. The differences will jump out at you more. I went in loving Penn and Swarthmore equally, but the back-to-back tours definitely distinguished them in my mind.
• One or two weeks in advance, review the university's course catalog and email professors to audit classes you like. This helped me get a firsthand sense of what the school was like inside the classroom. Don't be afraid to ask!
• Yelp is an incredibly powerful tool for finding affordable but well-liked restaurants near college towns, as small businesses are already sparse in places dominated by schools. Also, if you visit Boston and can handle spice in your cuisine, make sure to consider Shaking Crab.
Sarah Feng is a rising senior at Pinewood School and a Town Crier intern.