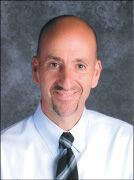 Rich Julian is set to take the reins as Loyola School's new principal for the 2018-2019 school year. Julian returns to the Los Altos School District following a six-year stint as principal in the Milpitas Unified School District.
An educator for nearly 30 years, Julian spent one of those years teaching fifth grade at Covington School. Former Loyola Principal Kimberly Attell is moving to Oak Avenue School.
The Town Crier recently sat down with Julian to learn more about his background and plans for Loyola.
Q: You were a principal in Milpitas previously. What brings you back to the Los Altos School District?
A: Los Altos has always felt like home for me. The district reminds me of the district I worked in in New York for 20 years. My time here was short but very rewarding, so when the opportunity came up, I thought it was a perfect chance to get back here. The one thing I loved about working here was how cutting-edge and innovative it was. I know that work has continued.
Q: "Cutting-edge" how?
A: When I was here back in 2012, we had just started doing work with Khan Academy. We were utilizing technology in a way that could personalize learning for them. That drove my work as a teacher here and as a principal in Milpitas.
Q: What made you want to be a teacher in the first place?
A: I'm one of six kids. Four of six of us are educators. I grew up watching them with kids, and I used to grade papers for them, so that began the interest. As I got older, I've examined my "why." I think back to when I was a student – and I was a pretty good student – but I think my needs weren't really being met. My potential wasn't really met.
When I was in school in the '70s, things were done the way they had always been done, and the time was never taken for me. That was what drove me to get into working with kids, and that's what still drives me today.
Q: Why did so many of your siblings end up being teachers?
A: My father dropped out of high school young and went into the navy. My mom never went to college. But my father always understood the importance of an education, because he never got one.
Q: You've taught for many years and been a principal for many years. What do you like better about being a principal?
A: I love people. I love having and building relationships. I get to work with kids, parents, colleagues and administrators. I get to work with all the stakeholders. I get to impact more people in this role.
Q: Is there anything you miss about teaching?
A: I miss teaching itself. That's something I try to get my fill of, if a teacher is willing to let me come in and teach a lesson or two. As a principal, we teach adults, but something about teaching kids is fun. I used to love teaching American history to fifth-graders.
Q: What makes a good principal?
A: A principal has to be a people person. They have to be a relationship-builder. A principal has to be somebody who follows through with what they say they're going to follow through with, somebody who kids know will advocate for them. Ultimately, it's someone who understands how to manage all sorts of personalities and all sorts of ages.
Q: What do you like to do outside of work?
A: I'm a big family man. I'm also a drummer. Whenever my wife's OK with it, you'll find me down in the garage drumming. My poor mother, with the hours my brother and I spent in the basement playing the drums. Gardening is also therapeutic for me.
Q: How is the Los Altos School District different from other districts you've worked in?
A: Here, families are fully engaged in the education of their kids.
Q: Do you have fond or not-so-fond memories of your elementary school principal?
A: I had a few principals, but I only think of one. His name was Mr. Augustine. What I remember about him was he was visible, he smiled and he took the time to get to know us. I don't recall the other principals I had. I always remind myself of my legacy. When it's all done and it's all over, what are they going to say about me? They're going to remember how I made them feel.