As I prepare to get my daughter ready for her first day of preschool, I wonder: "Is she ready? Am I ready? Will she be OK?" I think every parent's mind ponders such questions when it comes to transitions in our lives, especially when it relates to our children and new beginnings.
I've been an educator for a decade and have seen firsthand how many parents had a tough time on the first day of school. As a parent, I can now comprehend how it felt for those kindergarten parents leaving their children in the classroom with me for the first time. There is a mix of emotions happening, especially when the child hasn't had any type of group care. It's a big deal trusting someone else to take care of your child during the day.
I saw myriad ways that parents coped with the transition of the first day of school – some cried, some lingered, some just dropped off and left. We all have our own way of coping with change. But in the end, the parents knew that their children were in good hands and left them in the classroom with me.
The moment you decide to let go and be open to change and new opportunities, you will be surprised. Countless times I've had to reassure parents that it's OK, that despite their child's tears, he or she will be fine. This is the child's way of working through hard feelings with a new transition, and it will pass. Usually shortly after parents had left, their children had stopped crying and were engaged in an activity with peers, enveloped in a hug from me or nestled with a book in the cozy corner library area.
As parents and caretakers, we will experience many transitions and celebrations with our children. Entering preschool is one rite of passage, and many more will follow suit. In these rites of passages, we will see our child grow and develop into his or her own person. And as a parent, it's hard, as you want to shelter and protect them. It is important for us as adults to be there for comfort and support as our children find their own way into the world.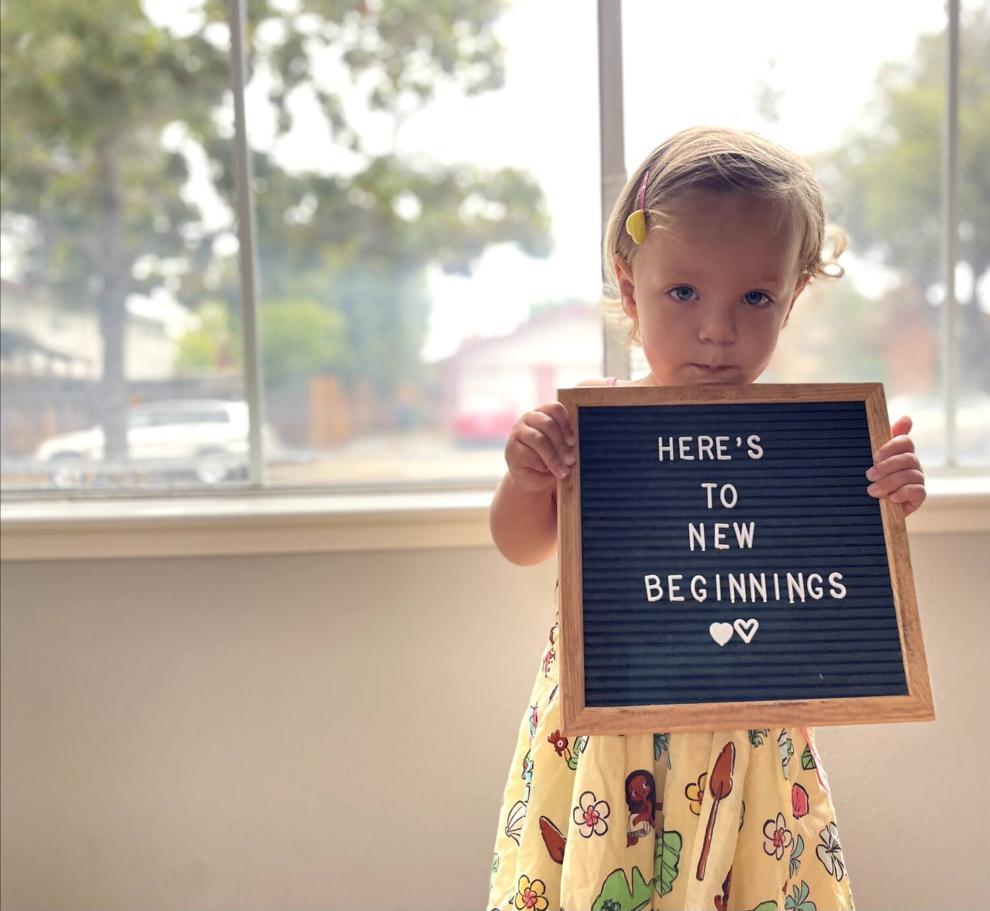 Embracing the unknown
There are many ways to document these special life transitions, including taking photos or videos, or making photo books.There are also apps you can use on your phone to generate a message on the photo as well, such as PhotoGrid, Canva and PicLab. It is a great way to document, as the photos become visual keepsakes for years to come.
One popular method is doing a first-day-of-school picture and a last-day-of-school picture – it's nice to see the difference a year has made (as you can see from my friend's photo of their child Chloe on page 17).
Transitions are also about transformation and change. I like to think of them as a state of metamorphosis. My child, who has been with me over the past two years, is not a helpless baby anymore. She has transformed into a curious, independent and fearless young toddler ready to tackle the world. I feel so blessed to have been able to stay home with her during the pandemic and get to see her grow up right before my eyes. However, she is ready to explore new opportunities, and I'm ready to be there by her side as she experiences them.
If anything, the pandemic has taught us to slow down, appreciate the small things and prioritize what brings us joy and comfort.
Despite being sheltered and quarantined this past year, people still found a way to celebrate the special moments in our lives. Whether it was birthday parties at home, picnics at the park, graduation ceremonies via Zoom, wedding ceremonies recorded – we still found a way. This only made us appreciate these moments even more.
As we pass through the back-to-school month, many children will be experiencing a transition together. Many young students will go from remote and hybrid learning to in-person school, and that will be a big change for both children and parents.
Are there uncertainties with transitions? Yes, there are. However, if we dwell on the what-ifs, we won't leave room for growth, opportunity and surprises. Uncertainties also can be transformational, exciting and powerful. We need to embrace the unknown as well as give our children the message, "Yes, you can do it. I believe in you, and I'll be right by your side the whole way no matter what happens."
Ellie Angel is a local mom and educator. For more teaching tips, follow her on Instagram at @mama4learning or visit her blog at medium.com/@Mama4learning.