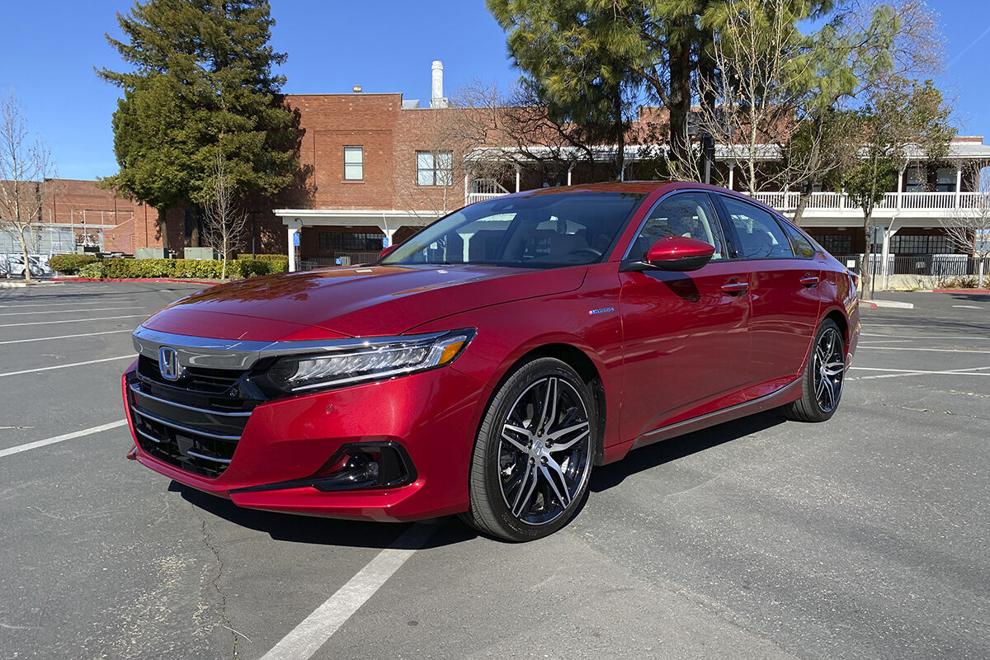 When Honda's Accord first hit the streets in 1976, it was a revelation. The roads were not at that time thick with meticulously crafted, utterly reliable, comfortable and economical vehicles.
The Accord, I will argue, more than any other car, recalibrated American drivers' expectations of what an automobile should be and do – to the eternal regret of the then-Big Three (GM, Ford and Chrysler).
Fast forward 45 years and the story, no longer novel, remains the same. The Accord is, hands down, the standard for family sedans. And, in Accord Hybrid form, it's crazily economical while being more powerful than the standard Accord.
This year's Accord Hybrid is powered by a 2.0-liter gasoline engine mated to an electric motor. It makes 212 horsepower, which is 20 more than a standard 1.5-liter turbo gasoline Accord. Zero to 60 mph happens in 6.7 seconds. And the U.S. Environmental Protection Agency fuel economy estimates are 44 mpg city and 41 highway.
For 2021, Honda has spread features that were previously reserved for EX and Touring models across the Accord Hybrid line. Display audio system, Apple CarPlay and Android Auto and rear-seat USB chargers are now standard on all Accord Hybrids.
There also have been improvements to the adaptive cruise control, making it smoother, and to the lane-keeping assist function, providing a more natural lane-centering feeling. And the Accord Hybrid also has a new low-speed braking control, new rear-seat reminder and new LED headlights.
There are four Honda Accord Hybrids available. The base model starts at $26,570, the EX at $30,520, the EX-L at $32,890 and our tester – the top-of-the-line Touring – has a base price of $36,440.
The standard equipment highlights at that price include leather-trimmed seats, leather-wrapped steering wheel, 10-speaker premium audio
system, dual-zone climate control, 19-inch alloy wheels and power moonroof.
And thanks to Honda's policy of equipping each level a certain way with zero options, the Radiant Red Metallic paint was the only extra-cost option, at $395. So, with $995 destination and handling charges, the as-tested price of the 2021 Honda Accord Hybrid Touring is $37,380.
Fun fact: The average new car price in the U.S. right now is $38,723. So the top-of-the-line, fully loaded Honda Accord Hybrid Touring – by no means an average car – is $1,343 less than that. And that is as compelling a value argument as you are likely to find.
Mike Hagerty, vice president of membership for Western Automotive Journalists (waj.org), has been writing about cars since 1997. Read more of his reviews on his website (MikeHagertyCars.com) and follow him on Twitter (twitter.com/mikehagertycars) and Facebook (facebook.com/mikehagertywritesaboutcars).